But reality star's representatives have since clarified that she isn't actually in law school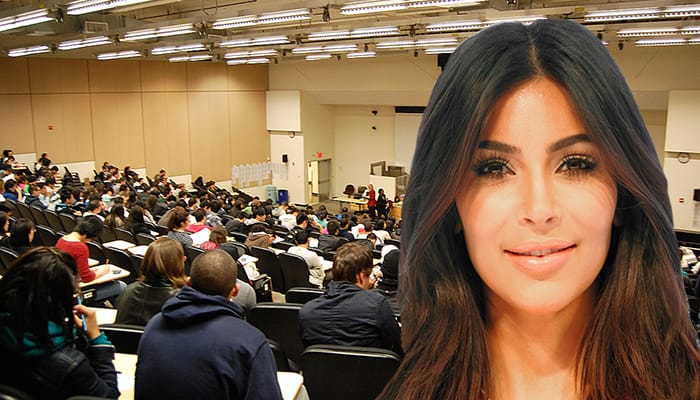 Kanye West has sensationally claimed his wife Kim Kardashian is a law student.
Appearing in an interview on Extra, an American entertainment television programme, the chart-topper told host A. J. Calloway, "my wife is in law school now, and it's extremely serious to us".
The rapper's revelation over the weekend was in response to a question about Kim K's involvement in reforms to the American prison system. The Keeping up with the Kardashians star has been using her platform to raise awareness of wrongful convictions and has met with President Trump at the White House to discuss the issue.
Great meeting with @KimKardashian today, talked about prison reform and sentencing. pic.twitter.com/uOy4UJ41JF

— Donald J. Trump (@realDonaldTrump) May 30, 2018
Praising his wife's work, the outspoken rap artist said:
"I love it, I love it. That's all we focus on, helping people that don't have a voice, breaking down the class systems. There's two million African Americans incarcerated now… We're going to get people out, period."
But it's unlikely that we'll see the beauty mogul swap bralets for books. A representative for Kardashian clarified to Extra that the businesswoman isn't in law school, but "is so entrenched in the legal system with her activism that it is like going to law school".
Kardashian's law school ambitions haven't materialised out of thin air.
Despite not possessing a university degree, the 37-year-old — whose late father Robert Kardashian was a lawyer who famously worked on OJ Simpson's murder trial — revealed plans to do a vac scheme once her busy schedule slowed down. This followed a conversation with her lawyer, who reportedly told her, "you really should be a lawyer… You've got the perfect instincts, you've got great judgement… Will you please join my law firm?"
Readers assuming Kardashian's intern comment was just a throwaway should consult an earlier confession made by the reality star. In an interview with Wonderland Magazine, the mother-of-three said:
"If things slow down and I had time, I really want to go to law school — just something I can do in my older age."
The post Kim Kardashian is a law student, says Kanye West appeared first on Legal Cheek.